Hawkins Range Reserve officially opened to the public on May 4, 2023. The recreation destination in the Boise Foothills offers two directional trails for hikers, mountain bikers and equestrians.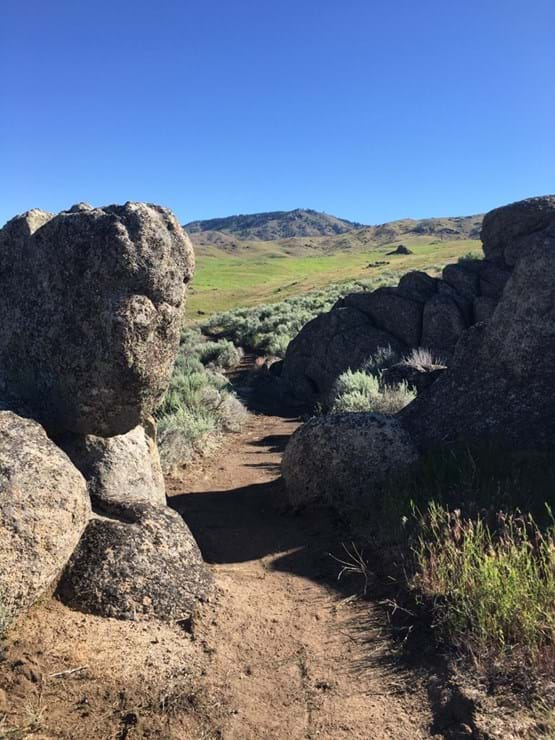 Trail and Trailhead Information
Hawkins Range Reserve is a beautiful addition to the recreational offerings in the Boise Foothills. The reserve, which is located off N. Bogus Basin Road, features a 5.7-mile directional trail called Hawkins Loop and .6-mile nested trail called Harrow Trail. The paved trailhead is located in a unique area of the Boise Foothills that until now has not been accessible to the public. It offers a restroom and horse trailer parking.
Hawkins Range Reserve and all trail access is closed seasonally from November to May (weather permitting) to protect critical habitat and important wildlife corridors for the animals who call the foothills home. In addition, dogs are required to remain on-leash on all trails in the reserve from May 1 through June 15 to protect elk calving in the area. Dogs will be allowed off-leash but must be under voice control at all times from June 16 to October 31 annually. A gate is installed at the Hawkins Range Reserve Trailhead that automatically closes from dusk to dawn each day.
Hawkins Range Reserve spans 393 acres of foothills property off Bogus Basin Road. It is owned by the City of Boise and managed by the Ridge to Rivers Trail System partnership.
The property was protected in 2015 with the purchase of land owned by the Hawkins family, the Berry family and other properties owned by the Idaho Humane Society.
Public and partner agency engagement efforts began in 2017 and included federal and state environmental review, open houses, online surveys and virtual events.